Cutesy hearts are everywhere! You could even wear a heart-print shirt for Valentine's! So why should you own shirts with whimsical prints?
Maybe hearts aren't quite your aesthetic. Perhaps a subtle paisley, floral, dot, or a bold abstract suits you better than the heart patterns I've shown here. Maybe solids are your thing: just substitute a bold-colored solid shirt here. No worries … the principle of wearing shirts with whimsical prints remains the same. You might be looking at all this and thinking you have nothing like that in your closet for a good reason.
Well, as one of my clients has been joking, I'm helping him change. He's not wrong. As your tailor, I want your clothing to reflect how awesome you are.
You've already heard my spiel about why you need a pink shirt. So give me a chance to explain my reasoning about shirts with whimsical prints.
When Can I Wear a Whimsical Print?
Let's say you're headed out to dinner or a date at a nice restaurant. Jeans and a polo look a little too casual, but you don't feel like a jeans-and-blazer combination either.
Enter the whimsical print shirt. Sure, if you're staunchly opposed to patterned shirts, a solid one is fine. But it may look a little too much like you went straight from desk-to-dinner, which is fine on a weekday and a little boring on a weekend.
Perhaps you're on vacation and need something to wear to dinner. One of our clients chose this awesome anchor print in a short-sleeved shirt for an upcoming cruise. It's a fun choice that will look very appropriate for any meal on any tropical vacation. 
And finally, certain whimsical prints look great in the office on all but the most formal occasions. A print shows your personality and adds interest to your outfit. Unless it's your signature style, like Glee character Emma Pillsbury, I'm not suggesting a whimsical print for every day.
For any holiday, looking a bit festive—even in the office—helps you look more approachable. While I'm obviously not Irish, choosing something green on St. Patrick's Day is fun. Wearing hearts or reds and pinks on Valentine's Day is an easy choice. There's a spirit of camaraderie and fun that comes from honoring the themes of a holiday. Why else would we have ugly sweater parties or dress up for Halloween?
What kind of whimsical print should I choose?
Here is where your personality comes into play.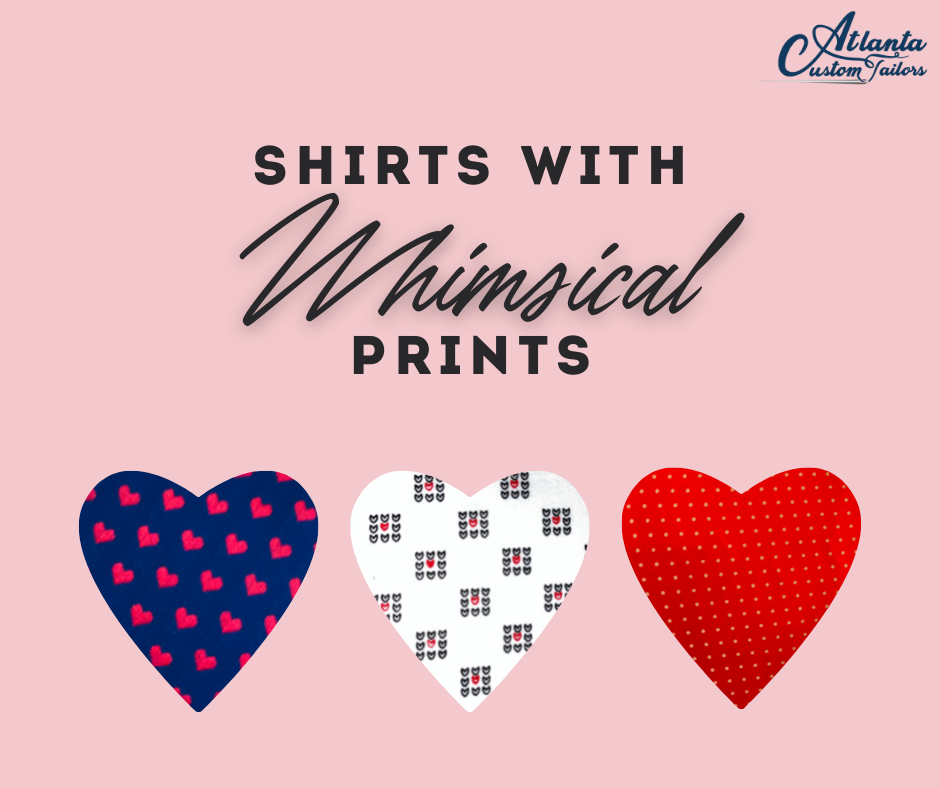 If you want something bold, this navy with red hearts is a really fun Valentine's choice. Going a little more subtle, this square pattern of hearts on a white background gives a nod to the holiday with basic neutrals.
My long love for polka dots led me to choose this small dot pattern, which comes in other colorways. It reflects the holiday without being overtly plastered with hearts.
Do you own any shirts with whimsical prints?