You're looking at your closet thinking "Nothing fits and I'm going back to work," possibly to the formality of the courtroom, in just a few days.
What do you do? Besides panic?
You're Not Alone
While coronavirus threw all of us for a loop, causing our habits—and our body shapes—to change, it's not the only type of life shift that can do that. People have to update their work wardrobe for all kinds of reasons: returning from medical leave, returning from maternity leave, changing jobs with different dress codes, etc.
So there's no need to panic if nothing fits and you're going back to work.
Decision Time
Whether you need to overhaul your work wardrobe altogether or need to add a few key pieces depends on how long you expect to remain at your current size. Be honest with yourself, and take into account time constraints and your motivation level.
There are two scenarios:
1. You're already making changes to your lifestyle and expect to return to your usual size in a few weeks or a couple of months.
2. You expect to remain in this size for 6 months or more.
In the first case, you need a few items and a few alterations to tide you over. The items don't have to be the best quality if you don't expect to use them for long.
However, if you're looking at a longer-term wardrobe shift, especially if you work in a formal environment like a courtroom, you want to present yourself in the best possible light.
Alterations
You may have some items that you can alter to fit your current shape.
Of course, taking something in is easier than letting it out. However, our custom suits are designed with a fabric allowance for alterations.
Some garments, like dresses, are very forgiving of weight changes. Jackets and skirts also disguise weight shifts well. Trousers, however, are not as forgiving and will require tailoring.
Give us a call and we can give you some guidance. We've let out pants for weight swings of about 20 pounds, and we've taken in pants for weight changes much greater than that.
Nope, Nothing Fits and I'm Going Back to Work!
What if alterations just aren't going to cut it? Or you've altered a few key pieces but need to fill in the gaps?
Our standard advice is that lawyers need 5 – 6 suits for when there are trials lasting a week or more. However, we recognize that buying 6 suits in one shot may be unrealistic.
Budgets, shifting sizes, and style details are all reasons to spread out suit purchases. If you order one of our suit packages—two suits and four shirts—then place another order upon receipt (5 – 6 weeks later), you can maximize the versatility of your wardrobe while also reassuring yourself that everything is working together as you like.
So What Do You Need to Fill in the Gaps?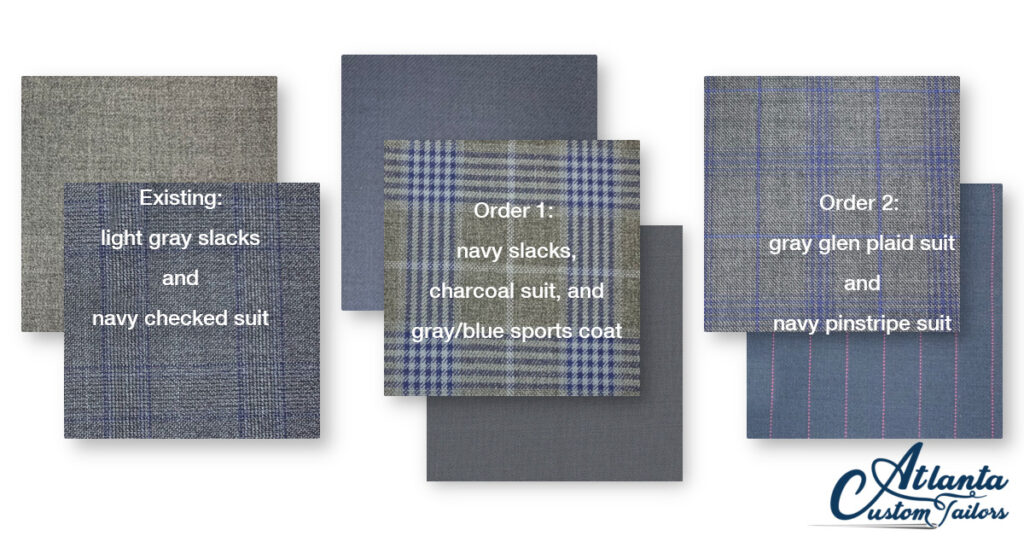 If you haven't read our take on wardrobe basics or how six shirts can update your wardrobe, those are good places to start. You might need one new suit package and a mix of trousers and blazers.
I like starting with a single color story—like gray or navy—if I'm building a small capsule wardrobe. This way, all your major pieces can easily mix and match.
Let's say I start with a basic charcoal suit, a pair of navy trousers, and a blue-and-gray sport jacket. Adding four shirts to this, plus mixing in a pair of lighter gray slacks and a navy suit that are already in your closet will get you through a week of mix-and-match options.
Then, when you add other coordinating pieces in your next order, like this charcoal glen plaid suit and this navy pinstripe suit, along with another four shirts, everything goes together and maximizes your wardrobe options. You can also start retiring the transition pieces that don't fit as well as your new items.
As you can see, buying two of our suit packages, back-to-back, can offer you a lot of variety, solving the problem of "Nothing fits and I have to go back to work!"