After a spring and summer of conference calls and a total shift in lifestyle, you, like me, may have discovered some gaps in your wardrobe. As we enter yet another season of work-from-home, I suggest updating your closet with six shirts.
Why six shirts instead of four or eight?
Well, I'm glad you asked. Six shirts gets you through a full work week with one day to spare, in case you still need to pick up (or do) laundry. Remember that you don't have to launder custom shirts after every wear, particularly if you wear a layer underneath. If you don't spill something on it, wearing six shirts 3 – 4 times between washing gets you through most of month. And we offer a buy-5-get-6 package to make updating your closet even easier.
So, six shirts. But which six shirts? Obviously, we have customers who love the simplicity of wearing white shirts every day in one or another of our hundreds of white-on-white cotton fabrics. At this point many people don't even look at the swatches and just ask us to send them a certain number of new white-on-white shirts. If this is what you'd like, we can certainly help!
But if you're bored with your current choices, or if getting dressed every morning means picking between only a couple of things you still like that still fit, you may not have enough variety in what's in your closet. That's where my specific recommendations come in.
Updating Your Closet with Six Shirts
Two Solid Shirts
The first refresher is the simplest. Start with a pastel you enjoy wearing and a white-on-white shirt. These two shirts go with everything in your closet, from striped or patterned suits to solid chinos to jeans. The layering options and color combinations are endless.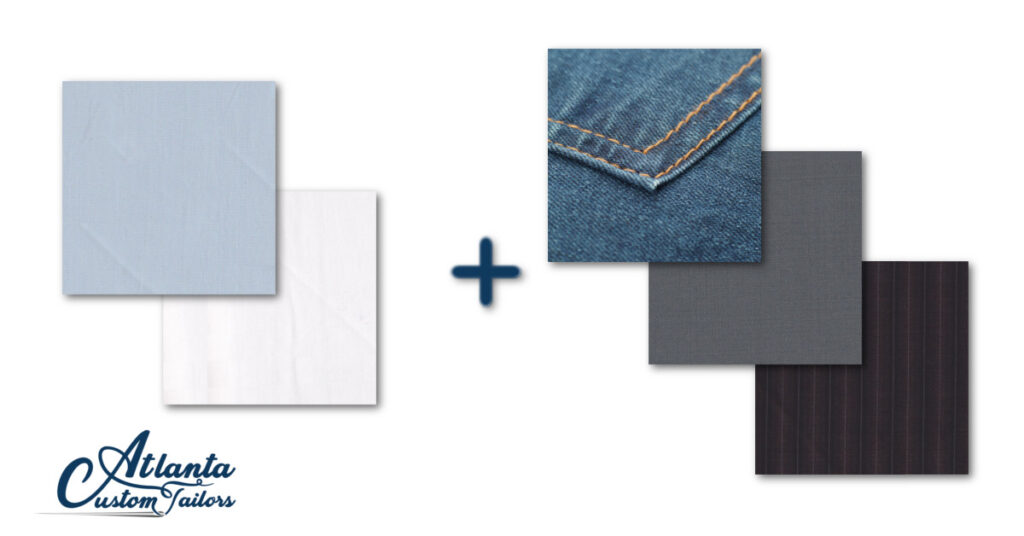 If you're into #ZoomFashion, whether you wear sweatpants, boxers, or cutoffs, these shirts will keep you looking professional. These classics will let your personality shine through and let you repeat wears unnoticed by those who see them. I'm always reminded of the news anchor who wore the same suit for a full year without anyone noticing.
While I definitely don't recommend making that choice if you're bored with your wardrobe, it does prove the point that classics are forgettable enough that you can repeat them without anyone else noticing.
Two Subtle Shirts
Personal preference comes into play whenever you pick custom shirts. So if you like stripes, checks, herringbones, or paisleys, this is where to let your personality shine.
But choose two different types of patterns, like one stripe and one dot, or one check and one herringbone, to give you more variation.
I recommend shirts with smaller, subtler patterns for two shirts for several reasons. Some may read as a solid from a distance. Others allow you to mix and match with existing items in your wardrobe. And finally, they aren't so bold as to be memorable.
For example, I can match these white-and-green stripes or the lavender herringbone with any color slacks. By coordinating shoes, belt, and accessories, I have endless possibilities. Add a top layer, like a cardigan or a blazer in any neutral or wear it under any solid suit and you're ready.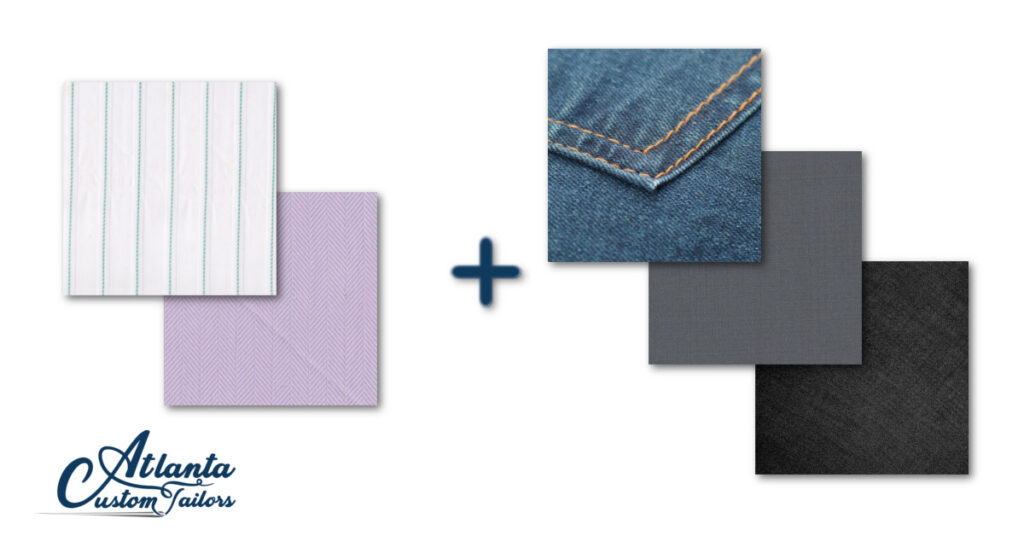 If instead I choose one of these small blue prints, I can add a colorful blazer or cardigan with navy slacks or jeans into the fall. For the paisley or the small print, I would even pattern-mix with a coordinating navy checked blazer.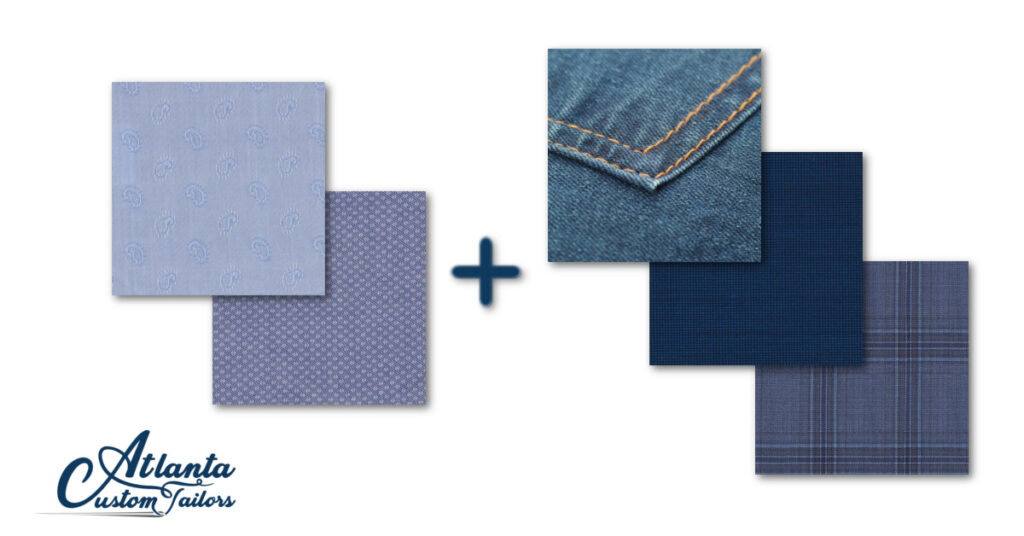 Two Bold Shirts
These are your more memorable shirts. I recommend wearing these with solids or keeping the rest of your outfit simple. These types of shirts are great work-to-weekend options.
Here I show a lovely lavender and navy check, as well a bold blue pattern and a bold stripe. These are the shirts whose patterns call to you, whether you like paisley or polka dots or bright checks. If the clothes spark joy, getting dressed will improve your mood. (Yup, I'm a big fan of Marie Kondo.)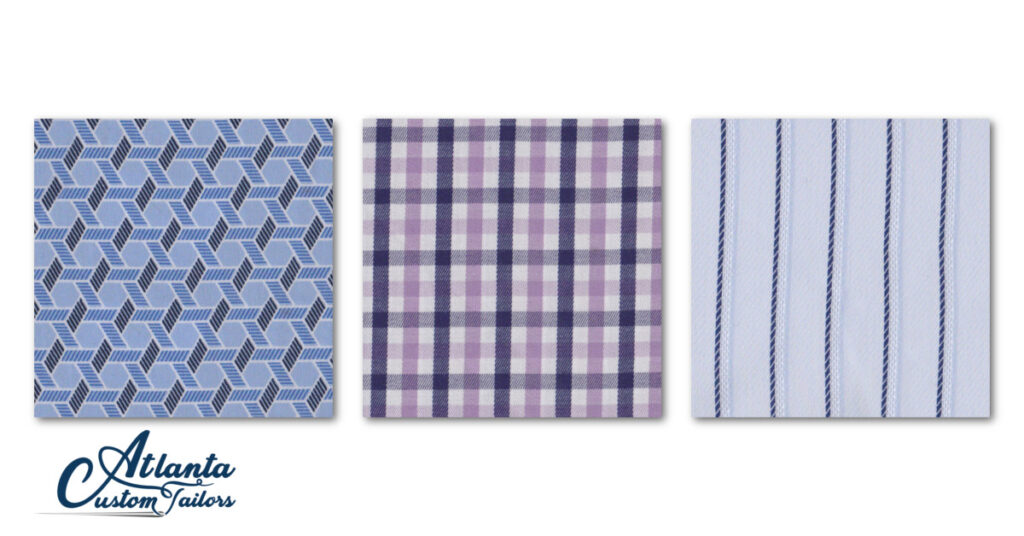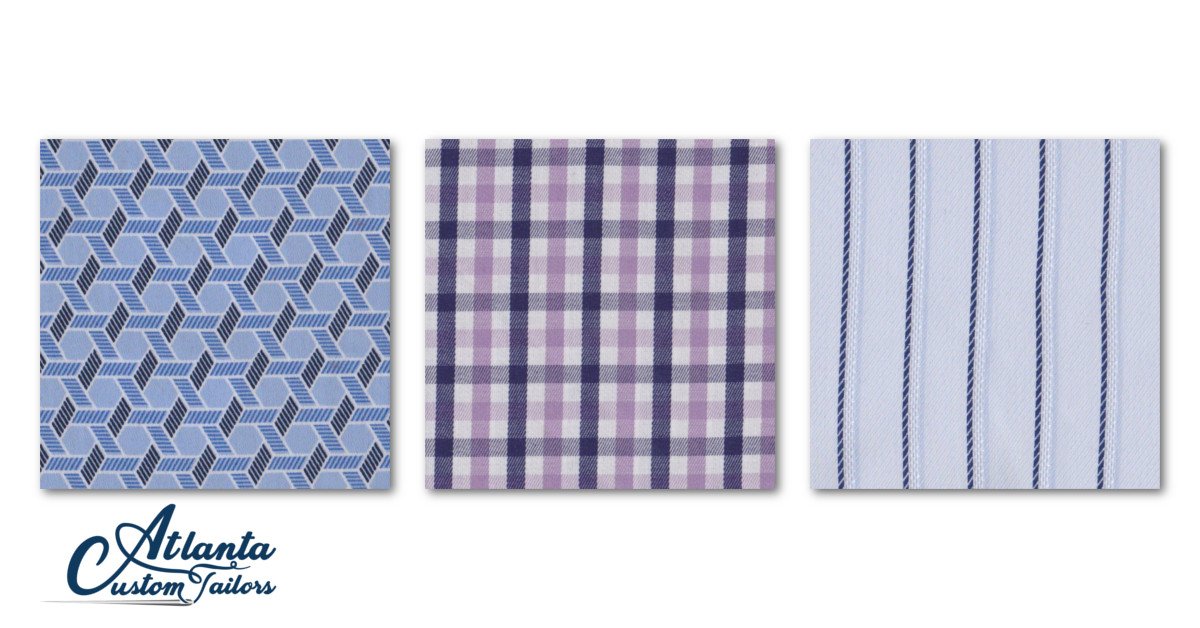 Refreshing your wardrobe for the season can help break up the boredom and bring you new options that make you feel your best. Updating your closet with six shirts—just six!—can give you endless possibilities and make getting dressed a breeze. Even if you are stuck on video conferences all day…
One final tip—if you're leery about adding ALL the colors and ALL the patterns, start simple by picking just two colors you like. For example, navy and lavender, or red and blue. We have hundreds of samples to choose from, so your preferred combination is sure to be available.
Book an appointment to order one of our shirt packages today!
Let us know in the comments what your favorite print or color combo is!