With businesses and workplaces reopening, many of us find ourselves dusting off long-ignored work clothes and try to put together outfits for the office again. But just how should we be dressing for work after quarantine and so many months of elastic waists and t-shirts?
The Post-Quarantine Closet
Like me, you may have found yourself purging your closet of clothes that you don't like anymore. Perhaps the additional time at home left you with clothes that don't quite fit the same as they did this time last year.
Maybe you're looking at your closet right now and seeing a sea of summery colors and fabrics that don't feel quite right after Labor Day. And maybe you have a bunch of basics that don't provide any inspiration.
Wardrobe Boredom-Busting Strategies
If you've read our post on updating your closet with just six shirts, you know that a little variety can give life to even the simplest basics.
Being strategic about what you add to your closet helps break up the boredom of getting dressed every day. A blazer or sport coat with an autumn feel can carry your existing wardrobe—pastels included—into cold weather.
What Makes You Think of Fall?
The weather turning cooler… kids going back to school… Halloween… leaves changing colors… pumpkin spice lattes… football…
Echoing the colors of the season in a garment, like one of our sharp checked blazers in seasonless wool, can instantly bring the feeling of fall and its cozy comfort.
Our Recommendations for Dressing for Work After Quarantine This Fall
With the weather turning cooler, adding a new blazer or sport coat is the perfect nod to the season.
The subtle browns and caramels of our new blazer samples offer that fall feeling but still mix and match with basics that carry across seasons.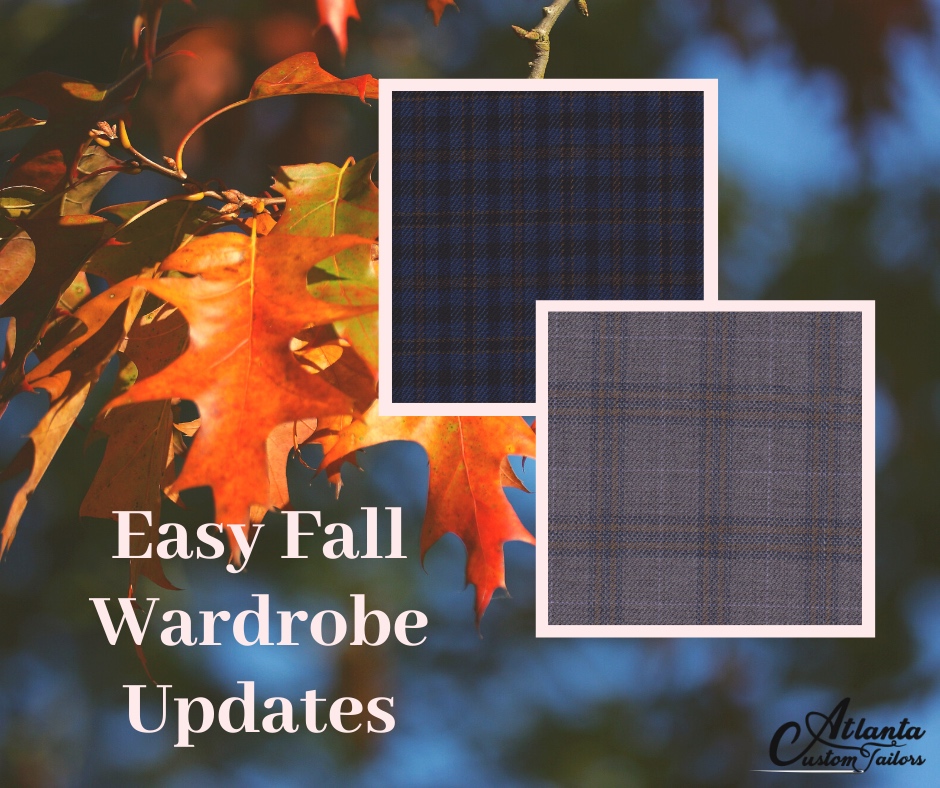 For example, this blue wool with caramel and dark brown checks can be worn as easily with jeans or khakis as with your choice of dark trousers. Just add a powder blue or white shirt under it and coordinating cognac shoes and belt, and you're set for any dressy occasion that doesn't warrant a full suit.
If the dark blue feels too heavy this early in the season, I also like this cool gray with blue and caramel windowpanes. A white, pastel pink, or lavender shirt and the right accessories can draw out the slight textures in this gorgeous wool. A blazer like this calls to mind fall but can also be worn in the spring and summer since it is a lighter color.
Just remember, when you're dressing for work after quarantine this fall, it doesn't have to be complicated. Adding a few pieces with fall tones and using rich browns in accessories like belts, shoes, watch bands, and handbags can take your wardrobe into fall.
Book an appointment to get a new fall blazer today!