For this teen of the nineties, the change in the season gives me an excuse to cozy up in flannel this fall. I'm not talking about my beloved grunge-era oversized plaid flannel shirts. Reimagine comfort in flannel wool trousers. Dress up—and soften—your regular work wardrobe with a flannel blazer.
The soothing texture of flannel evokes the sensation of being wrapped in a favorite blanket or being enveloped in a warm hug. It's why—no matter the trends of fashion—flannel always has a place in my closet.
As with all my other recommendations, adding just one or two new garments this fall can freshen up an uninspiring closet. Using a blend of solids and patterns can keep your wardrobe from looking dull. With the impeccable fit and style of a bespoke Atlanta Custom Tailors garment, you will always look professional and stylish.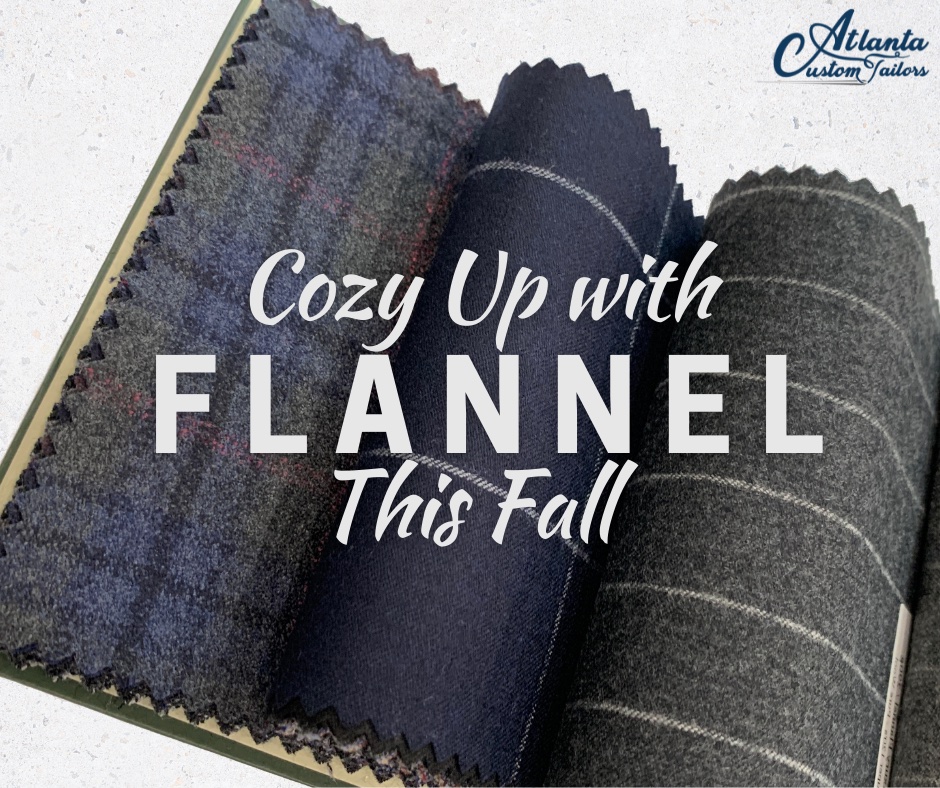 Cozy up with flannel this fall
Simple gray flannel trousers pair well with so many jackets in your closet—including the navy nailhead one you may have from spring.
If you prefer something more unexpected, we even have navy nailhead flannel!
Black flannel trousers are also a great choice. The texture of flannel softens the harsh color. Don't worry—I love to wear black. However, it isn't always the most flattering option despite its versatility. Putting black garments away from your face allows you to enjoy the ease of wearing black while bringing out your best features with colors that look better with your complexion.
The juxtaposition of flannel with a different, crisper fabric makes an elegant pairing, too. A well-pressed button-up shirt or a sharply cut blazer will look much better on flannel trousers than a less structured garment, like a long cardigan or a sweater.
What about plaid?
Most of us think of plaid when we think of flannel. I love a plaid flannel pencil skirt with a sharp blazer. Show your personality with a plaid sports jacket in your favorite fall colors over any of the trousers in your closet. We've also made many gorgeous suits—in subtle glen plaids, in bold windowpanes, and everything in between.
Split up a flannel suit and wear the jacket with everything from trousers to jeans—the plaid really does go with everything.
My only caveat is not to pair a wool flannel garment with a summery fabric, like thin cotton khakis or white cotton eyelet lace. Mixing seasons too dramatically in an outfit can be jarring.
What will you add to your closet to cozy up in flannel this fall?