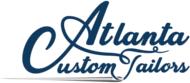 Bespoke vs. Made-to-Measure
Bespoke
"Bespoke" is a British term for garments are made to order specifically for a particular customer. In other words, bespoke clothing is custom-made using your measurements, your posture, and a garment pattern created just for you.
For word nerds, the word "bespoke" is the past participle of "bespeak," which means to suggest or to reserve something in advance. In other words, these garments are "spoken for."
Bespoke tailoring pays attention to fine details, such as lining up patterns of stripes. Contrast stitching for button holes, interesting fabrics for lining, and choice of buttons are also characteristic of custom-tailored garments.
Made-to-Measure garments use a standardized pattern that is close to a customer's measurements. The standard pattern is then modified before the garment is constructed.
While made-to-measure clothing can be constructed faster than bespoke garments, the fit will not be as precise as a garment that is custom-tailored for the wearer.
Fine details, like alignment of stripes, may also be lacking.

Here at Atlanta Custom Tailors, all our garments are bespoke, made using a pattern drawn from your posture and measurements. When you need adjustments to your garments, a new pattern is created just for you and used for future orders.